Unlocks doors. Holding and using will automatically unlock the door.
Lakeview Cabin III
Edit
You can find two of these and both unlock the second floor door in Cabin A where you can acquire the Shotgun. One can be found in the Sock inside the Tan Backpack on the Eastern side of the lake. To obtain the key you can use the Guitar, Saucepan, Axe, Kitchen Knife, or even throw the Lantern on it.
The other method is bit more interesting. First head for Cabin 2. You'll need to make at least two of your characters strip down and have sex on the bed to knock the key off of the shelf.
Lakeview IV
Edit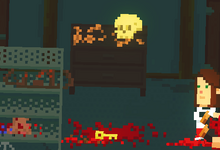 One or two keys can be found randomly inside the drawers inside the Mansion. Unlocks the pit trap room in the basement and the Attic. The key to unlock the pit trap room can also be obtained by repeatedly beating the fallen corpse of the screaming woman twenty times.
Not to be mistaken with the Skeleton Key.