The last will is a page written by Husband in his last moments, it says: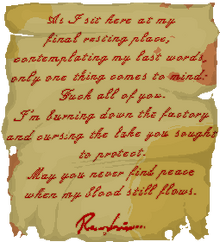 "As I sit here at my final resting place, contemplating my last words, only one thing comes to mind:
Fuck all of you.
I'm burning down the factory and cursing the lake you sought to protect.
May you never find peace when my blood still flows.
-R"
-While Husband name was belived to be "Red" the signature seems to be longer than that
-It also seems that he is the cause of the Curse of the lake